Bangladesh Railway Ticket Booking: Online train ticket booking is now easy for Bangladesh railway eticket. Instead of booking from the train station ticket counter, you can now buy a train ticket online. You don't have to go to the railway ticket counter from which railway station you want to travel; try online train ticket booking through Eticket.
If you want to travel by train, you need to book a ticket for your journey online or by going to the station. This post will provide you with all the online train ticket booking system information. We are here to help you with making your trip better.
Online Train Ticket Booking By Eticket
Eticket is an online service of Bangladesh Railway by Bangladesh Railway Eticketing; if you want to buy a train ticket online, you have to go through Eticket. The online train ticket booking system is much easier than others. There are two steps for ticket booking. Here is detailed information about online ticket booking. Carefully follow all these instructions.
Get more information about the Bangladesh Railway Esheba E-Ticketing service (the information on the govt site hasn't been updated yet, so don't be confused; read this article to know the recently updated system of ESHEBA); If you feel any problem with ticket booking, you can Contact Us.
Bangladesh Railway Ticket Booking Detailed Process
There are two steps to burying online train tickets from the Bangladesh Railway: Register for Bangladesh Railway online ticket and buy a ticket online. But one more step to complete; pay for the purchased ticket online. Let's figure out how we can complete all the steps to buy a train ticket online and complete payment to have a comfortable and enjoyable journey.
Step 01: Register For Bangladesh Railway Online Ticket In eticket
First, you have to register on the Bangladesh Railway Esheba website. You will not be able to buy a ticket before registering on the Railway Esheba website. Let's check out the instructions.
Visit this website (eticket.railway.gov.bd) for registering in the Bangladesh Railway e-ticketing service.
You will enter the Bangladesh Railway Esheba website. There you will see a webpage with the "User Registration" form.
To register, click on "Sign Up" first.
Complete the form with the valid information they asked for.
The information you have to input in the Bangladesh Railway online ticket register form:
Enter your full name.
Your email address.
Please enter your mobile number; confirm it by re-entering.
Enter the Password you want to use for the login; confirm the Password.
Then click on the "Sign Up" button below.
NOW: input the OTP code sent to your phone number and confirm it.
Now, you will be redirected to a user login interface like: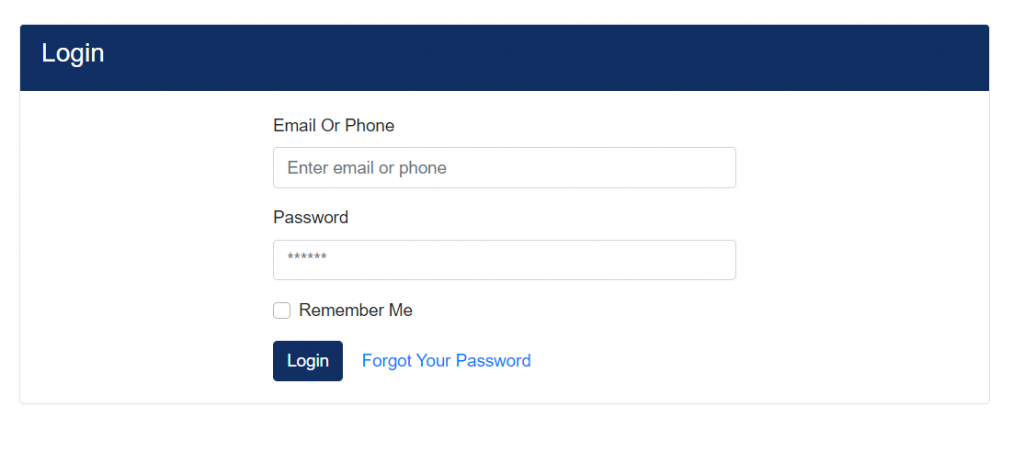 Or, visit here to log in to your account.
Congress, You have successfully registered on the Bangladesh railway website. Now, you can purchase a ticket. Follow my step blew to buy an online train ticket.
Step 02: How to Buy Train Ticket Online From Bangladesh Railway
In the first step, you registered on the Railway Esheba website. And now, in the second step, you can buy or book a train ticket for any railway station which contains an online ticket booking system.
Step 1:
Visit this website (eticket.railway.gov.bd)
You will see a Welcome Page of the Bangladesh Railway E-Ticketing Service.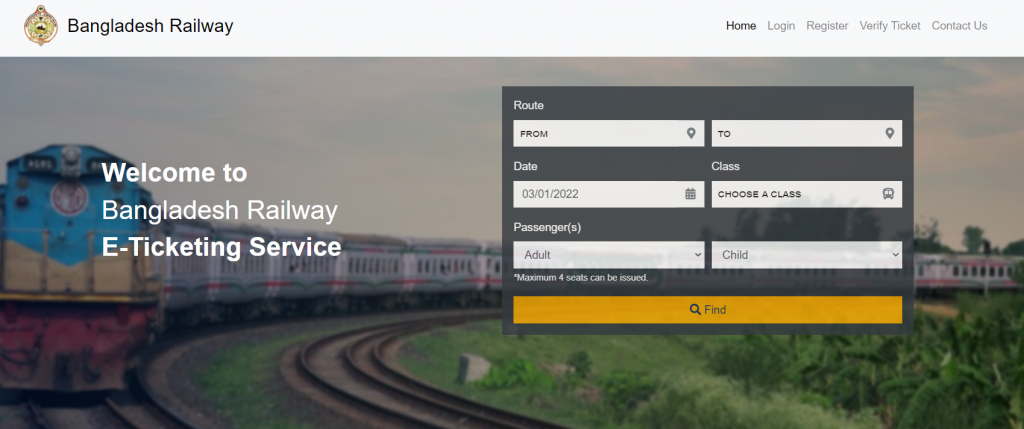 Step 2:
Now, you have to select your destination (route), journey date, seat class, and passengers (adult and child selection; for children, you will get a little discount on your ticket price).
Then click on the "Find" button.
Note: You can only issue 4 passengers at one time.
Step 3:
Look at the image below; say, I want to travel to B Sirajul Islam from Accalpur on 03/01/22; I have chosen the Shovon Chair seat; I don't have any children or any other adult with me.
Then I clicked on the "Find" button, and here is the result below image: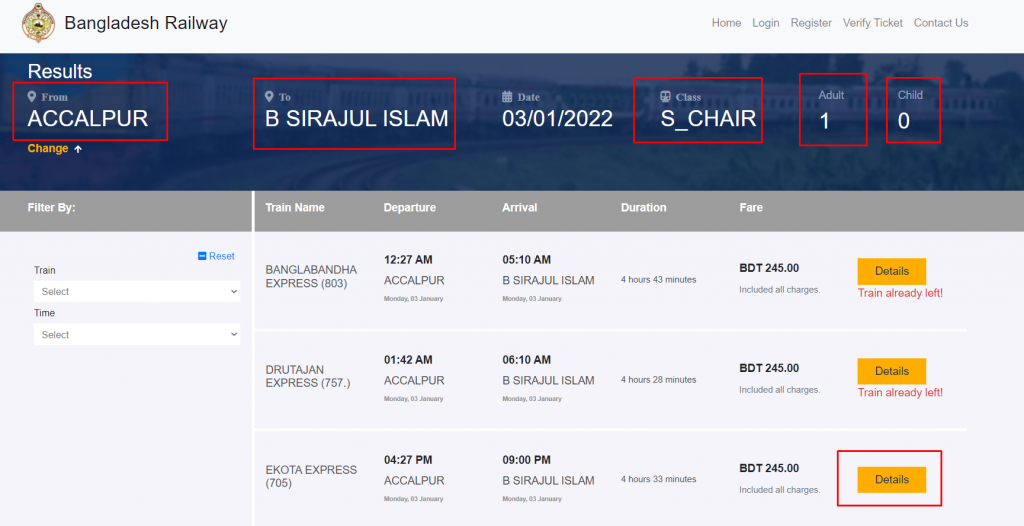 Step 4:
If the train seat is available, you will see the available trains, ticket prices, journey times, and other information related to your journey.
If the train has already left, you will see an alert on the "Details" button.
Click on the "Details" button.
You will see the train route and purchase button below; look at the image here: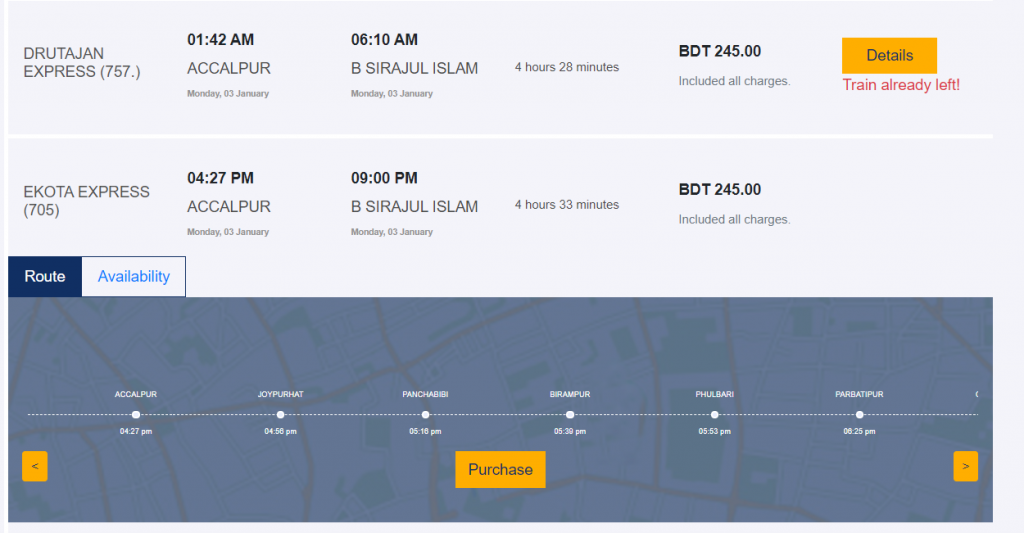 Step 5:
If you are in the Purchase step, you already know by which train and when you travel. Now, follow me:
Click on the "Purchase" button.
You will see a Train ticket booking login Pop Up page now.
Enter your "email and password" to log in to your account.
Click "login."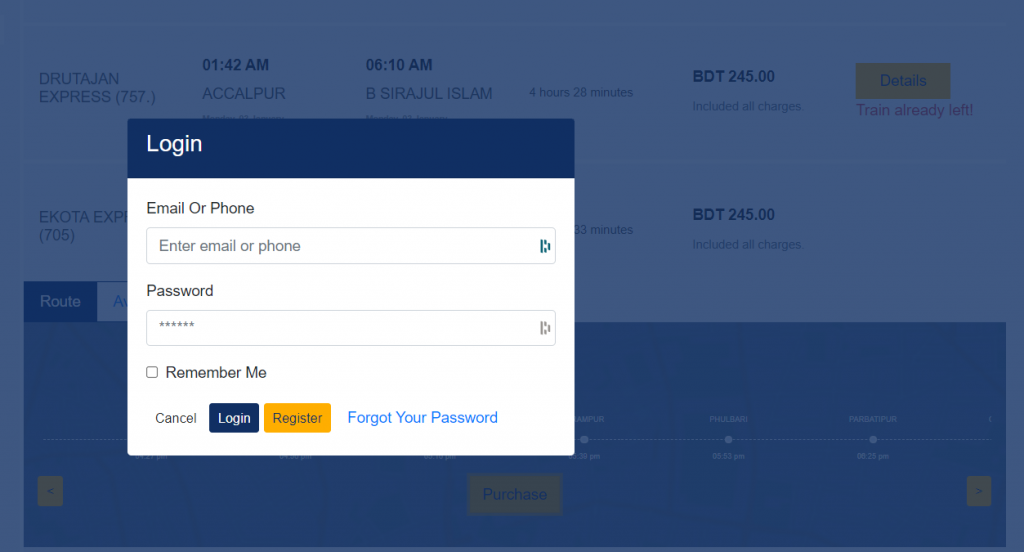 If you want to save login information so that you don't have to re-enter your email and Password later while logging into your account, mark the check box, "Remember Me."
Now, log in to your account.
Look at the image below; it's the final stage you buy a train ticket.
You have your details information of yours on the ticket-buying page.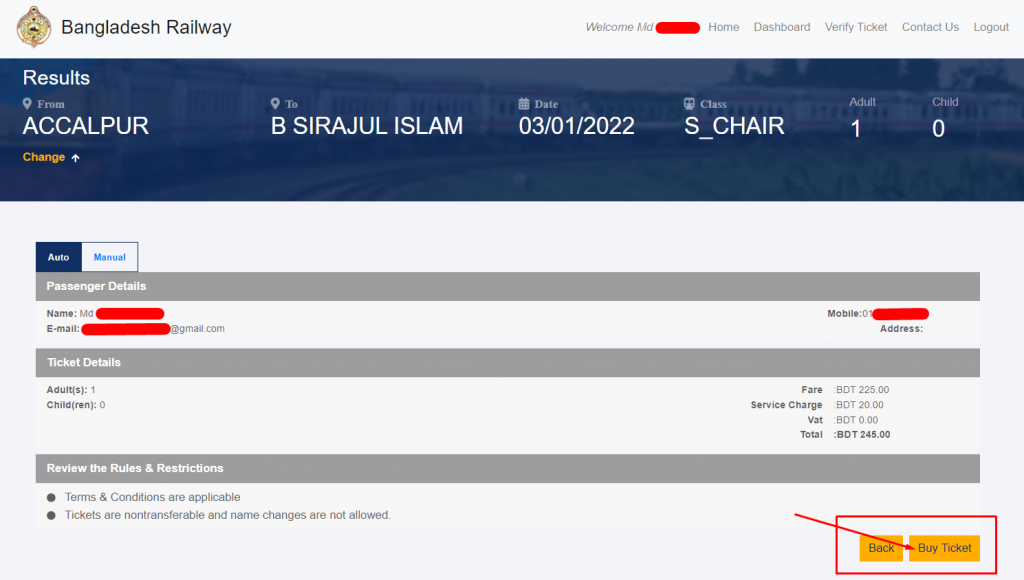 Notice carefully:
Click on the Buy Ticket button.
You will be asked to complete your profile.
Enter your NID number, gender, and Date of birth.
NOTE: Seat Selection only available before 120 hours from journey date. You can book the ticket online at 09:01 AM-11:00 PM.
How To Pay For Purchase Ticket Online
Okay, you have completed selecting train ticket, seat categories, etc. Now it's time to pay the ticket price. To pay the Bangladesh Railway ticket price, you can use Nexus Pay, MasterCard/VISA, DBBL rocket mobile banking, Americal Express, bKash, and Tap. Here are the details about how to pay for a purchased ticket online.
Visit this link (Railway ticket payment)
Select the Payment method you want to use for the ticket bill payment.
Then, enter your account number, Password, and OTP to complete the payment.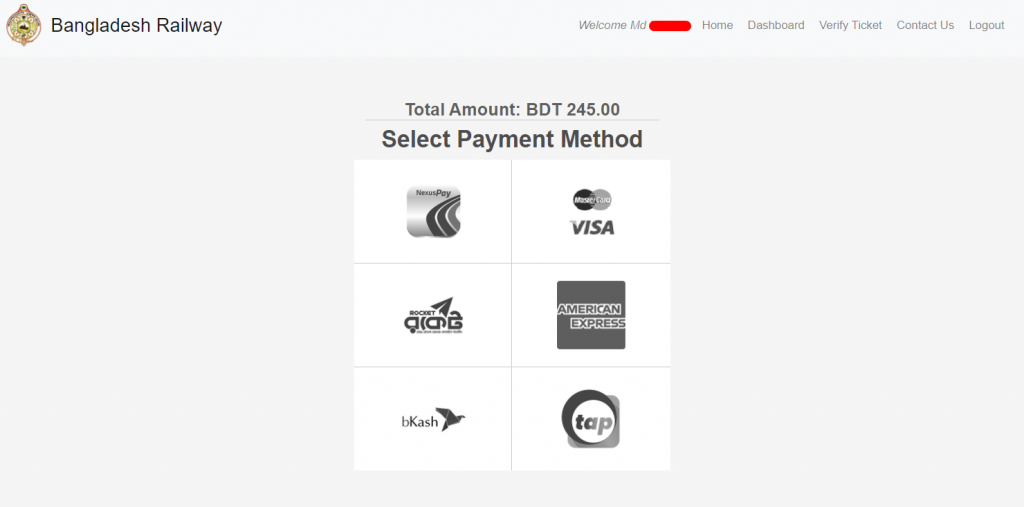 Step 1: Select the option: "DBBL Mobile Banking."
Step 2: Put your Rocket Number and Pin.
Step 3: You will receive a confirmation code on your phone number, which you used to create your DBBL account.
Step 4: Then, give the confirmation code and click Submit.
Step 5: You will receive your online train ticket in your email.
Book Railway Ticket Online On Mobile
Book railway ticket online on mobile is now easy for all SIM users.
Passengers can buy/book intercity train tickets via Robi, Grameenphone, and Banglalink Ltd. They provided better service. You don't n need to go to the rail station or stand in a long waiting line. For the mobile train booking, you have to register first. For registration, you have to go to your mobile message option first. Then type TKET and send it to 1200.
When your registration completes, you will get a return SMS from the mobile operator. In this SMS, they will send you a PIN. Then you will buy a train ticket by following the steps below. Please carefully follow all the steps. If you feel any problem with buying your ticket, please inform us. We will try hard to solve your problem. Follow the step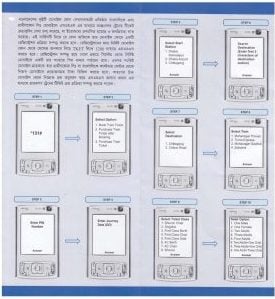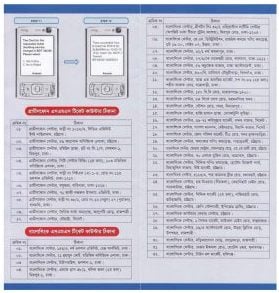 Robi Train Ticket Purchasing Process
If you want to buy a train ticket bd, follow our instructions to purchase train tickets using the Robi SIM.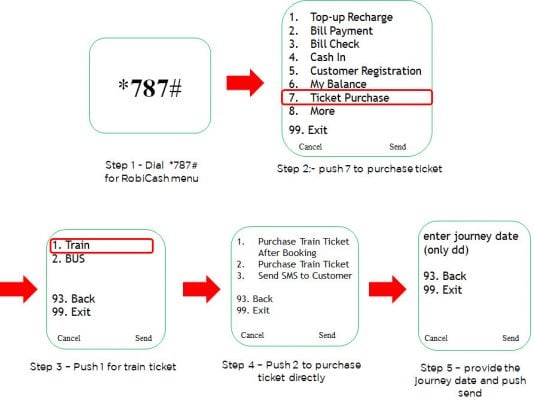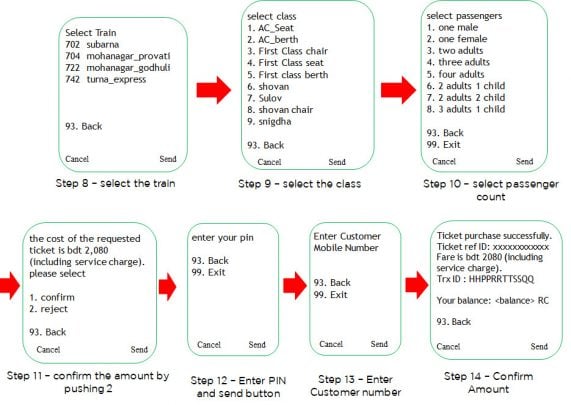 You will get detailed information about the mobile train ticket by Robi. Please visit this link: Robi Train-ticketing service.
Grameenphone Train Ticket: GPay Train Ticket
GP users can now buy train tickets using Grameenphone's special GPay train ticket service. Follows our instructions to buy a train ticket using GrameenPhone SIM.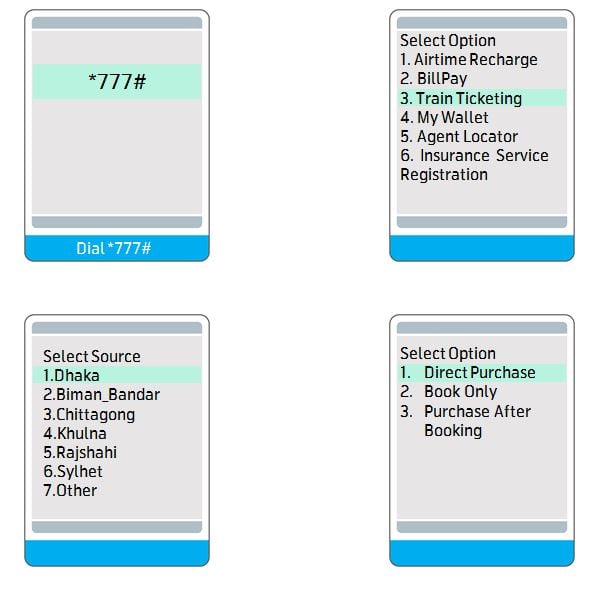 For more information about Grameenphone mobile ticket booking, please visit this link: GrameenPhone train-ticketing.
Train Ticket Booking Mobile App BD
Bangladesh Railways is always trying to make your journey safer and more enjoyable. For these circumstances, they provide easier ways to get a train schedule, ticket, etc. They also publish a mobile application to help passengers.
Bangladesh Railway Apps
You can search in the google play store by writing the 'Railway help app.' You can also download this application from the google play store from here—download Bangladesh Railway Apps.
Bkash Train Ticket
There doesn't have any Bkash train ticket buying/booking system. But you can pay your payment via Bkash mobile banking while you buy/book a ticket online. Not only with Bkash, but you can also complete purchase tickets via Cash card, Credit card, Visa card, Mastercard, etc.
Eticket- Bangladesh Railway E-Ticketing Service
Shohoz E-ticketing now maintains the Bangladesh Railway Eticket service. This Bangladeshi IT service company provides its service to the government. Since 2023, this IT company has been working on bus ticket service for a long time, and now they have joined the Bangladesh government and Bangladesh Railway to maintain the Bangladesh railway ticket service.
Bangladesh Railway e-Ticket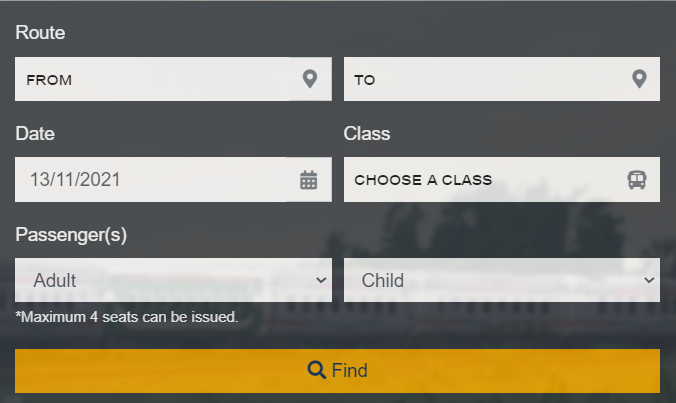 E-ticket stands for electronic ticket. The Bangladesh government has developed the Bangladesh railway e-ticket system. Shohoz helps maintain the railway e-ticketing system. To process the Bangladesh railway e-ticket, you have to visit: eticket.railway.gov.bd.
Enter all the information asked for here in the form, then find an available seat for your journey. Then order the ticket for your travel to your selected route.
Contact Information
You will get all the information about the Bangladesh Railway. And you get contact information here. Visit this Official Website: railway.gov.bd.
If you face any problem, please contact us. You can also visit the Bangladesh Railway Train Schedule.